The Sony Vaio SVE14A1M6E is a new portable computer designed for those who are looking for a team with an original design and that differentiate them from other users. This new model completes the range of Vaio E Series laptops, adding a touch of color and design to the line of notebooks more economic of the Japanese firm.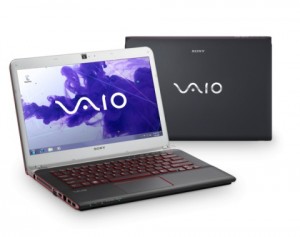 This new Sony Vaio SVE14A1M6E known for its unique combination of colors. Both the chassis and the lid are finished in black, with the inside of the screen and the sides in silver. The profiles of the top and side edges and the keyboard and the lip of the trackpad, are painted in red, providing the EVS14A1M6E type modding an aspect that without doubt, draw the attention of younger users. It is a mid-size laptop; with dimensions are 245 x 341 x 22.4 millimeters and weighs 2.3 kilograms.
The new Sony SVE14A1M6E incorporates a widescreen VAIO Display of fourteen inches in size, with WXGA resolution of 1366 x 768 pixels. The processor is an Intel Core i3-2350m dual core, with an operating speed of 2.30 GHz. For RAM, Sony uses a module of 4 GB DDR3 SDRAM, and the latter may be extended up to 16 GB. The graphics card is an Intel HD 3000 with 1 GB RAM.
As for storage options the new Sony Vaio SVE14A1M6E has a SATA hard drive offering a capacity of 500 GB, more than enough for a normal use. Also, the SVE14A1M6E equips with a DVD SuperMulti optical drive of 5400 rpm capable of reading DVD and CD discs.
The Sony Vaio EVS14A1M6 completes its offer with a stereo speaker system with xLOUD technology, Codec Dolby Home Theater and microphone V4 integrated to chat online. It also has a webcam "Exmor for PC" 1.31 megapixel resolution capable of providing images of 1280 x 1024 effective pixels.
The new Sony Vaio SVE14A1M6E comes with the operating system Windows 7 Home Premium 64-bit with Service Pack 1. Multimedia programs also include Media Gallery, PlayMemories Home, and Adobe Photoshop Elemets 10 together with a copy of Office 2010 preloaded.
In terms of connectivity, the Sony EVS14A1M6E has WiFi and Bluetooth port, two USB 2.0 and two USB 3.0, one external devices charged by USB. It also offers network connection, slot for Memory Stick Duo cards compatible with SD cards, microphone input and headphone output in minijack, SD card slot support SDXC, HDMI and VGA output for external monitors.
Finally, the Sony Vaio SVE14A1M6E incorporates a lithium-ion battery to achieve a range of 7 hours of use; with a charging time to refill the battery is 4.5 hours.