With few days before the release of Windows 8, three computers point the tip of their components and their touchscreens at Dell. The XPS 12, a portable convertible tablet, XPS One 27 and Inspiron One 23, two all-in-one PC with touchscreen option.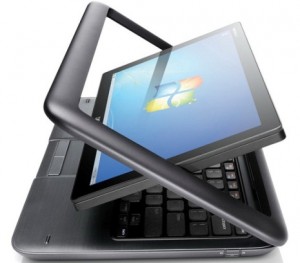 The XPS 12 will certainly be the flagship product this year from Dell. It is a portable PC with 12.5 inches screen with Full HD 1080p is hinged and swings completely to fold over the keyboard and act tablet. Available from 1199 euros, it will house a Intel Core i5 processor, 4GB RAM, 128GB SSD, HD 4000 graphics card, a full HD 1080p display, WiFi n, Bluetooth 4.0, 6 cell battery and it will obviously run Windows 8.
The Inspiron One 23 will also be available for this season. It is a all-in-one desktop PC equipped with a touch screen of 23 inches. Available from 849 euros, it will incorporate in its basic version, Intel Core i3 processor, 4GB RAM, 1TB SATA HDD, 8 x CD/DVD burner, AMD Radeon HD 7650 graphics card, with WiFi n connectivity, Bluetooth 4.0 and extensive connectivity with 2 USB 3.0 ports, an HDMI input, a digital audio output, VGA input/output, Gigabit Ethernet, etc.. A good plan for family use.
We pass to the superior with the XPS One 27, the starting price will be set at 1199 euros (instead of 1399 euros) and which will appear in a new version at 1499 euros integrating an Intel Core i7 (3.1 GHz) processor, 6 GB of RAM, 2 TB hard drive and NVIDIA GeForce GT640M with 2GB of dedicated memory. Of large caliber.