Google Street View is a Google application that allows us to see images as if we were at street level, with angles of 360 degrees. This powerful tool from Google with Google Earth offers us images of virtually every corner of the land surface of the planet. From now with Google Street View can also see images from the bottom of the sea, more specifically offers us images of the six most impressive marine points on the planet.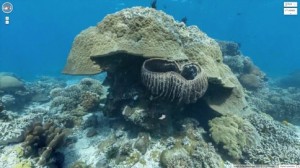 Thanks to technological advances and a new special camera The Catlin Seaview Survey Google Street View offers underwater images of large reefs of Australia, the Philippines and Hawaii. After the intention of Google to mount more precise and practical digital map of the world this advance is very important to mark the difference since it contributes panoramic images of the marine world.
The Great Barrier Reef of Australia, the largest coral reef in the world and declared a World Heritage Site by Unesco, is one of the sights that we see in the new marine maps. Apo Island is a volcanic island in the Philippines and is considered a valuable marine reserves or Hanauma Bay which has great coral reefs, are beautiful landscapes that Google has incorporated in a Google map, more specifically to Street View.
From now all users can visit the world ocean and the secrets that hide without moving from your desk chair. After harsh criticism that the service launched in 2007 and the significant drawbacks to privacy that Google Street View found to offer as it is today, it was worth all this work and all thanks to the fantastic marine images. Google remains one of the major search engines in the world, if not the most and wanted to make a difference with the competition by incorporating these unique images to its mapping system.