The avalanche of computers and accessories ready for the new Windows 8 does not stop come on the market and this time Dell who is being left behind and besides offering computers with the new operating system from Microsoft we have peripherals more than interesting, as the TP713 wireless touchpad and multitouch monitor called S2340T.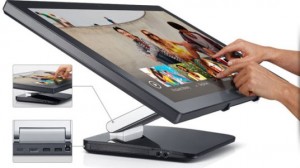 Already in recent weeks we have seen how Microsoft has rushed to submit their own keyboards and Wedge mouses and now Dell announces first a touchpad can recognize Windows 8 touch gestures that make it easier to use interface formerly called Metro.
Regarding the Monitor S2340T, it is a 23-inch screen with 1080p FullHD resolution, 90 degree articulation, 3.3 USB ports, HDMI, DisplayPort, Ethernet and webcam ready for videoconferences via Skype (not bad for a "simple" monitor, right?.
It is worth remembering that in a couple of days will be the official presentation of the new Windows 8 by Microsoft and that manufacturers of both computers and accessories and peripherals are rubbing their hands with what comes next for the coming months, every time that this new version of the operating system of the windows will be focused to a greater extent in remove all the juice as possible to the multi-touch screens of the computers of last generation.
These accessories will go on sale next week and in the case of the monitor, which is the most striking, will retail for $650.