After the StorCenter ix4-300d-300d and px2, Iomega adds to its catalog of network storage systems a new model for SMEs: PX12-400r.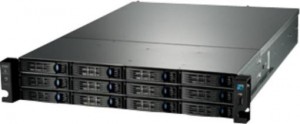 Available in Rack (2U), the PX12-400r has 12 bays that can accommodate up to 4TB hard drives and is also compatible with SSD. So it can provide up to 48TB of storage. According to the manufacturer, it is ideal for database, server virtualization projects, disk-based backups and video projection applications.
It is powered by Intel Core i3 processors, offers up to 4GB of RAM and 4 Gigabit Ethernet ports. Compatibility 10 GbE is optional via an additional PCI card.
It runs on EMC LifeLine and also benefits from a connector towards the EMC Atmos Cloud storage platform, of the technology of deduplication of EMC Avamar and McAfee VirusScan Enterprise for security.