Denon AH-D600 very well constructed and finished in black. The manufacturer's engineers and designers have studied four thousand people to measure the shape of the ears, head location, the length of the canal and head size. So have been able to design these headphones for that will be very ergonomic and could perfectly suit any user.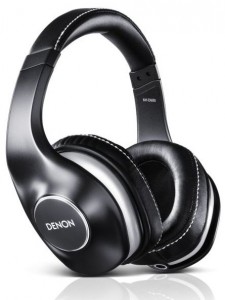 The pads are pentagonal shape and padded with viscoelastic foam that preserves the memory of the forms. It is lined with highly breathable synthetic leather. The headband also is padded and covered with the same material from which the soft touch pads. A shot of white stitching on both the headband as both pads, provides a very traditional air to the product. For greater flexibility, the joints that connect the headset with the shells can rotate through 360 degrees of freedom. Also, the cable is detachable.
Each of the shells has a cable connector in the form of Y. It has many advantages to replace when worn. This solution also expands the possibilities of using the headset with both hi-fi and with portable players and mobile phones. And it is that Denon has put two wires inside the box. One of them has a remote control and a microphone embedded in the cord.
It is compatible with many mobile phones on the market, but especially with the iPad, iPhone and iPod. It is finished with a stereo minijack (3.5 mm). The other wire is of superior quality and is designed for high fidelity, comes with an adapter for connector (6.4 mm stereo jack) which is gold plated.
The frequency response is wide, as much as the top of the range model, the Denon AH-D7100, with mahogany shells, ranging from 5 to 45,000 Hz. The sensitivity is 108 decibels and support a maximum input power of 1,800 mW. The transducers are made of nanofibers with a diameter of 50 mm. Furthermore, the manufacturer has developed an application called Denon Audio App which helps easily build playlists. It also used to access thousands of equalization. Also, the user can use a cinema equalizer bands to create and share your own. Simply press a button to share with friends from Twitter and Facebook the titles of favorite music. This application is available free for Android and iOS. The Denon AH-D600 are available in the shops at a retail price of 520 euros.