The Logitech UE Boombox is a portable speaker with a very solid construction. Its rounded lines are very organic. In addition, the materials used provide a futuristic. The handle is made of aluminum, and other parts are stainless steel and hardened rubber. It is very easy to move from room to room of the house. As it has little plastic and metal rather, it is a pretty tough team, even though it weighs almost close to two kilos. It works feeding on an internal rechargeable battery, which provides a range of about ten hours of use.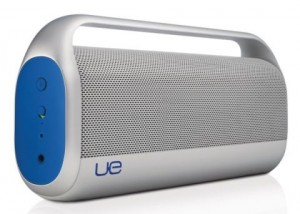 This speaker is designed by Ultimate Ears, a company specializing in audio, which Logitech has acquired. It is the ideal solution to enjoy the music stored on mobile phones and tablets. No wiring required; it is sufficient that the audio source available wireless connectivity via Bluetooth. Yes, the version must support A2DP (Advanced Audio Distribution Profile) which allows you to transmit stereo audio. Anyway, it's a fairly common feature, since it is also used for special wireless stereo headsets for mobile.
The freedom of movement in the room is large, since the speaker needs to be located within a radius of up to fifteen meters with respect to the Bluetooth device. From this distance the user can control the music from tablet or smartphone. All the inhabitants of the house will be able to use the Logitech UE Boombox. And it is possible pair with up to eight different Bluetooth devices. For parties and gatherings has another advantage, it is possible to have three mobile phones connected simultaneously to several friends to play music by turns. To switch between smartphones, all you have to do is press pause on one and press the play button on the other.
Now, this portable speaker not only can be used with devices that have Bluetooth. It incorporates an auxiliary audio input with stereo minijack connector (3.5mm) where you can plug in any MP3 player or portable audio player. The frequency response ranges from 55 to 20,000 Hz, and the sound is clear throughout the range.
Inside the package there is a valid power adapter to recharge the battery or directly feed also for the plug. This portable wireless loudspeaker compatible with Bluetooth measures 386.4 of wide for 78.5 backgrounds and for 164.4 millimeters high. The Logitech UE Boombox is distributed in stores to a retail price amounting to 250 euros.