The products of this French brand known for their originality and groomed. They offer an interesting combination of design and performance. And the new series LaCie Rugged USB 3.0 Thunderbolt could not be an exception. All edges of the metal casing are protected by an orange gum. Each unit weighs 260 grams and measures just over two inches thick.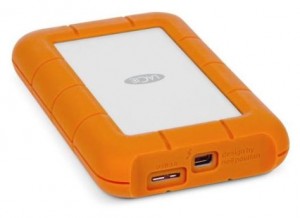 It is designed for intensive use and for maximum portability. It is pretty resilient storage unit that hold a fall from 1.2 meters, though, remain immune if the accident did not happen while running. Within this family of products Rugged USB 3.0 Thunderbolt is a hard disk with a capacity of 1 TB and two solid-state drives (SSD), the first one of 120 GB and second 256 GB. All models incorporate two interfaces: a USB 3.0 port and a Thunderbolt. Thus, the manufacturer gets to maximize compatibility with all types of computers, whether PC or Mac, or laptop or desktop.
These new LaCie storage units are ideal for advanced users, especially those professionals dedicated to video or photograph that require large amounts of space for files in very portable and resistant devices. Portability is enhanced further because none of these units requires an external power supply. It is powered through the USB cable or Thunderbolt cable, depending on the interface that the user decides to use at all times.
The port USB 3.0 is backward compatible with USB version 2.0 in all cases, although transfer rates decrease. The dimensions are also the same: 89 for 140 and 24 mm. The average transfer rate is higher for solid state drives as it reaches the 380 mbps (megabits per second), compared to the 110 mbps of the LaCie Rugged USB 3.0 Thunderbolt model with hard disk.
It is compatible with the following operating systems: Windows XP, Windows Vista, Windows 7, Windows 8, Mac OS X 10.5 8 later versions. All these storage units come with a setup wizard and a tool to back up automatically. Using the software LaCie Private-Public coming standard is possible to encrypt the data and protect it with a password. The manufacturer also offers 10GB of free storage space in the Wuala cloud service for one year. Inside the package are a USB 3.0 cable (USB 2.0 compatible) and a Thunderbolt cable with a length of 50 centimeters. LaCie Rugged USB 3.0 Thunderbolt hard disk 1 TB costs 250 euros. Meanwhile, the solid state drive 120 GB SSD is for sale at a price of 200 euros and the price of the 256GB SSD amounts to 355 euros.