Denon D-F109 combines a stereo amplifier with radio, also known as stereo receiver (the Denon DRA-F109), a CD (the Denon DCD-F109, a networked audio player (the Denon DNP-F109), and a pair of speakers (the Denon SC-F109).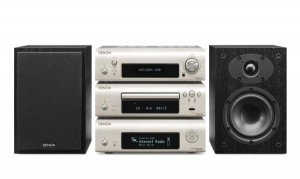 All of them feature high quality construction and finish very carefully. The front panels are made of aluminum. The engineers of the house have decided to avoid the digital signal converters and incorporate stages of digital outputs for that not the original signal is maintained as intact as possible.
It is a mini component adapted to changing times. Not only has the usual CD player with ability to play music via USB. In addition, there is the audio player in network, which enables you to work with audio streaming from a computer. The amplifier is D class and provides an output power of 2 by 65 watts.
The circuit design is very simple and has a coaxial digital audio input and an optical audio input. The information display is quite broad, where there are two lines of characters of large type to make them easy to read from far away. The tuner can receive radio stations on FM and AM, and is capable of storing 40 presets.
The audio player from Denon network DNP-F109 adds the possibility to enjoy Internet radio. It is equipped with Wi-Fi and Ethernet, so you can connect to any kind of networks. It is DLNA 1.5 certified. In the rear has a USB port where you can play audio, both from a memory key or an external hard drive, or from an iPod or iPhone. In addition, thanks to wireless technology airplay of Apple, you can play in streaming your iTunes library and the music stored on iPad, iPhone or iPod.
For its part, the CD reader further expands the supported media sources. You can play CD-R and CD-RW discs, which can contain files in MP3 and WMA format. Similarly, you can read those files from the USB port on the front, where you can connect an external hard drive or, also, iPhone or iPod. The information display is wide, with room for two lines, such as the amplifier.