The Parrot brand intends to become a world leader in the field of leisure drones. Coming to conduct a capital increase of 300 million euro, the manufacturer has also unveil the new Bebop 2 model that presents all in a slightly more compact format, with Full HD camera on the snout and optimized autonomy can afford to use the unit for 20 to 25 minutes non-stop.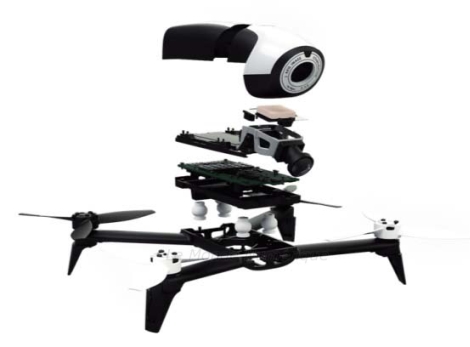 The Parrot drones are known to be particularly stable and controllable easily from an application on smartphone or tablet, but also from a controller developed specifically for this purpose. The Bebop 2 does not seem to depart from the rule since its manufacturer announced as particularly compact, robust, stable and lightweight with only 500 grams on the scale. This does not prevent from embarking numerous electronic and mechanical components including 3-axis stabilization and a camera capable of filming with Full HD quality and a fish-eye wide-angle lens. The device has an internal memory of 8 GB.
Inside a processor manages 7 integrated sensors: vertical camera which takes care of maintaining a fixed point, ultrasonic sensor that calculates flight altitude up to 5 meters high then relayed by a pressure sensor, barometer to measure atmospheric pressure, 3-axis gyroscope, accelerometer, magnetometer and smart GNSS (GPS and digital compass coupling).
Parrot announces a range of 20 to 25 minutes of vol. always according to the manufacturer, the Bebop 2 drone would be able to fly at a maximum speed of 60 km/h to the horizontal and 21 km/h in a vertical position. It hit its peak in 14 seconds and slows in 4.5 seconds. It can reach 100m of altitude in less than 20 seconds. Binding is a Wi-Fi with a range of 300 meters off obstacle. The drone can automatically return to its take-off point. There is also a cut-off System circuitry and automatic shutdown of the propellers in a crash. It is possible to restrict the altitude and the perimeter of the flights.
The new drone Parrot Bebop 2 is available for €550 approximately. Count on a price of €950 for the Bebop 2 pack with controller Skycontroller Black Edition to fly the aircraft on a larger distance (up to 2 km) and equipped with joysticks.