BlackBerry tries to get out of a coma with a device manufactured by Alcatel with entrepreneurial soul….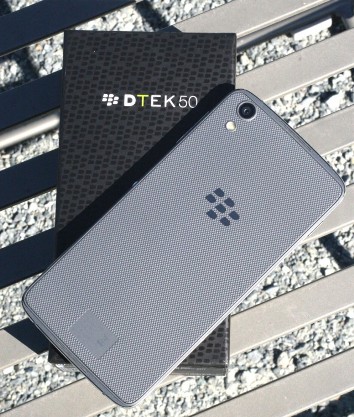 Here is the first BlackBerry phone with Android for the first time does not include a physical keyboard: BlackBerry DTEK50. As might be expected from BlackBerry, its strong point is the security, reinforcing their applications and services with the current version of Android.
Perhaps its design sounds vague and the fact is that this time bet BlackBerry for sending its new mobile manufacturing to an external company again, in this case the Chinese company TCL, which in turn owns Alcatel. So it may sound, because it is a clone of Alcatel Idol 4S.
The features are the same: 5.2-inch QHD screen, Qualcomm Snapdragon 617 processor, 3GB of RAM, 8MP front camera and 13MP rear camera, Android 6.0 Marshmallow., microUSB connection, 4G connectivity, WiFi 802.11n and Bluetooth 4.0. It's even keeps the side button that gives you quick access to the most commonly used applications.
BlackBerry has surrendered completely. Although this is not the first time that leaves other manufacturers are responsible for the hardware, the BlackBerry Z3 was manufactured in Foxconn, what is clear is that they abandon the idea of designing and customizing, beyond the software teams.





This is a strange decision because BlackBerry is still a company where their mobile still represent 40% of their profits. The first BlackBerry with Android, Priv, has not sold well. Dreamers seem to think that this BlackBerry manufactured by Alcatel can do something for the company. At least for ordinary consumers, it does not represent a security enhancement against iOS or Android versions as protected by Android for Work or Samsung Knox.
BlackBerry DTEK50 already booked for 339 euros. The pack includes phone with accessories (headphones, cable and charger) and a 12.600mAh external battery.