Follows the fashion of the compact cameras without mirror and high-level. With the Photokina fair 2012 to view a few days, Fujifilm has unveiled the details of one of its main commitments for this year: Fujifilm X-E1.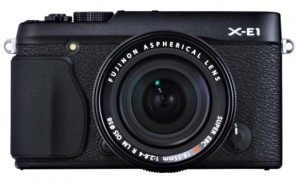 This new camera comes in a CSC flash in the X series of cameras from the company. This model is in the range of entry in the series with its APS-C sensor of 16 Megapixels, is smaller and adds the electronic viewfinder as an extra. In addition, it includes flash.
Fujifilm X-E1 features
The Fujifilm X-E1 has been quite an achievement by the company, which has put new elements in a smaller body, similar to the Fujifilm X100. It weighs 350 grams and the full rubber grip design with retro touches that both like to the company and where the quality of the materials becomes a badge of identity.
The developments are the electronic viewfinder, type of OLED and with 2.36 million pixels, and an integrated flash that we can complement with external one.
This Fujifilm X-E1 leads 2.8 inch LCD display and resolution of 460.00 points, in addition EXR processor Pro, sensitivity of 200 to 6400 ISO and different artistic functions which include mythical simulators of films.
It is capable of recording video at 1080p and its battery will hold up to 350 shots on a single charge.
The new Fujifilm X-E1 will be officially presented at Photokina and will premiere on the shelves in October with two versions, one in black and one combined with silver accents. No details on pricing yet.