LG electronic paper will have a high resolution and, although not be folded completely, if you can bend up to 40 degrees to be as thin as cardboard (only 0.7 mm).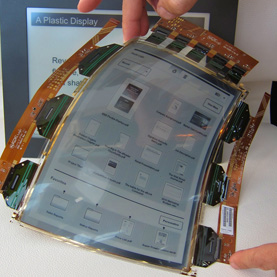 LG would bring to market this way the ePaper, this gadget that users spent years wanting to see and not only as a prototype, but as a real alternative to eBooks and paper as we know it today. The device will come with a six-inch screen with a resolution of 1024 x 768 megapixels. Also, being so fine and not need a glass screen, weighs just 14 grams and is extremely thin.
As explains through the official blog the chief of operations of the division of mobile devices and OLED, Sang Duck Yeo, "It is the world's first plastic screen, with the EPD".
Moreover, being plastic, from the Korean company has indicated that it is more resistant to breakage than current electronic books. In fact withstands drops up to 1.5 meters without breaking. Even hitting it with a small hammer, urethane, as explained in the blog, the device was not damaged.
That Yes, the price and the exact day of departure nothing is known yet. What if users did not have enough to worry about when deciding between laptop, tablet or eBook, now comes a new fighter to the arena: the ePaper.