Google has introduced a new addition to its line of Chromebooks, these laptops with Chrome OS operating system based on the Chrome browser and operating in the cloud. This is a 11.6-inch Chromebook developed by Samsung and have an attractive price of only $249 which would include a storage license in Google Drive of 100GB up to two years.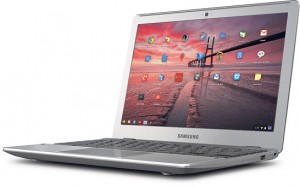 This new laptop from Samsung stands out for its attractive design and slimness (2 cm thick) that reminds us quite to the Apple Macbook Air, which is already being done custom with most Ultrabooks manufacturers who insist on copying its design or as some others have no hesitation in saying, based on the designs of the Cupertino-based company.
This new Chromebook is faster than its predecessors, running on ARM architecture with Exynos 5 dual 5250 dual core processor, ignoring low-power processors from Intel and also eliminate the overuse of the fans and offer good performance systems.
In addition to its thinness, this notebook weighs only 1.1 kg and has a battery that gives up to 6.5 hours of battery life, which sounds really great.
Other specifications are the 2GB of RAM, 16GB of internal storage, Wi-Fi, Bluetooth, one USB 3.0 port and another USB 2.0, HDMI, VGA camera for video conferencing and a 11.1-inch screen with resolution of 1366 x 768 pixels.
It is certainly not competitor to the current Ultrabook market, while Google wants to sell it to us this way, however, its low price can make this gadget a device with greater success than the Samsung Chromebook Series 5 or the Sony Vaio VCC111, plus if they seize the wealth of Google services in the cloud that can be used with Chrome OS.