Good news for fans of the Grand Theft Auto series, and it is that while we are still waiting for that Rockstar is anime to reveal deeply the fifth installment of this franchise open world, users of Android and iOS operating system of Apple, will soon receive acclaimed GTA: Vice City, to celebrate the tenth anniversary of the release of this game.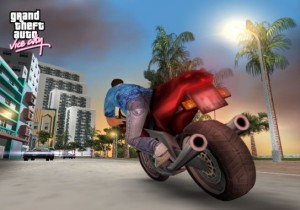 As happened last year with GTA III, smartphones and tablets will again experience the freedom of movement offered by GTA, with one of the most emblematic of the entire series.
Grand Theft Auto: Vice City was put on sale in 2002, debuting first on the PlayStation 2 veteran, later come to other platforms like the first Xbox from Microsoft and PC. This time, RockStar decision to set Grand Theft Auto: Vice City in the 80s, and it shows in the time that we got on the first vehicle to drive in the game and starts playing Billie Jean by Michael Jackson, one of the most representative songs of that era. The vehicles, clothing and of course the songs that sound by various radio stations, the 80 tributes from start to finish.
Grand Theft Auto: Vice City is usual in the series, an interesting plot reminiscent of many gangster movies of this genre. For this occasion, RockStar featured a star cast, which have enjoyed all over the world because of the company policy not to bend their games.
Ray Liotta, Danny Trejo, Dennis Hopper, Robert Davi, Burt Reynolds or porn star Jenna Jameson among the stars who contributed to Grand Theft Auto: Vice City giving life and great realism to the performances of all the characters.
Our protagonist, Tommy Vercetti, comes to Liberty City after his release from prison, where he began to perform missions for local mobsters and people with power to Vice City. In his career he's accompanied by his lawyer Ken Rosenberg and fellow hit man Lance Vance. Of course and as usual in the series, Tommy can not trust anyone and must build his own empire of crime from down dodging hundreds of dangers. With Grand Theft Auto: Vice City RockStar improved graphics of GTA III, expanded the range of vehicles, weapons, radio stations and range map where we can move. Vice City is a city inspired by Miami and set in 1986.
Grand Theft Auto: Vice City, will be available for iPhone, iPad and iPod Touch, as well as a large number of smartphones with Android OS on a date to be determined. The official data indicate that the game hit the App Store and Google Play in late autumn.