A few days ago with the launch of Dell multitouch monitor, have started arriving options other manufacturers to accompany the launch of the new operating system Windows 8, of which we highlight the LG Touch 10, whose main characteristic is that can detect up to ten fingers on its surface capacitive.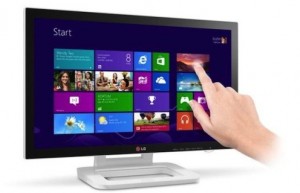 This monitor meets the need to take advantage of new features that brings multitouch interface of Microsoft operating system, providing this quality to the desktop factory that does not have this feature and that leaves them at a disadvantage of such devices in vogue as electronic tablets.
The model of this monitor is the ET83, especially optimized to support up to ten touch points, and is compatible with a stylus, which fools no LG sold separately.
The size of this monitor is 23 inches and has a FullHD 1080p resolution of 1920 x 1080 pixels in its IPS panel with a wide viewing angle of 178 degrees, both horizontally and vertically, and a contrast of high quality.
It will be available for sale in South Korea in the coming weeks of November, while for the European market and the rest of the world will be in the next month.