It's been more than five years since Steve Jobs took the stage to unveil the mobile phone that literally revolutionized the industry; of course we mean the iPhone. From the beginning, Apple was very clear line to follow future updates, both for good and for bad.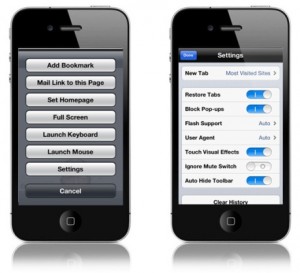 One of the most pronounced shortcomings of all iPhone models do not offer support for websites developed with Adobe Flash Platform, although there have been rumors that the brand would continue to offer this service keeping true to this policy. The reason not to include Adobe Flash on the iPhone has to do with the idea that, in the words of the own jobs, is not a tool designed for mobile devices and therefore, it is not necessary in this type of terminals. The truth is that many websites are developed in Flash, although less and less, and users of the iPhone, iPad and iPod Touch can not enjoy such content, for example you can not watch a movie on iPhone.
It's been years since began the controversy between Apple and Adobe, and users have become accustomed to the absence of the plug-in of Adobe Flash on their handsets Apple, but some still longing for this feature. There is good news on this subject and finally you can view Flash content on any Apple device quickly and easily. As expected the solution does not come from Apple, this is a new official app from the App Store that anyone can install without problems and it is not even necessary to have done the jailbreak on the terminal.
Specifically it is a browser for iPhone, iPad and iPod Touch called Puffin Browser is available in a free version that provides two weeks of testing support for Adobe Flash, after this time if you want to continue enjoying the benefits of Puffin Browser will to buy the paid version which costs 2.39 euros.
With this browser you can view all types of web pages through remote technology that loads pages on the servers of CloudMosa, the company that developed the application. In this way we can view any web on the iPhone since this will be loaded in the cloud, thanks to this it also increases the speed of response of the browser and also consumes less mobile data.
What's more Puffin Browser comes with many features such as Full Screen mode, block pop-ups, activate the virtual trackpad and other settings ( establish homepage, restore tabs, clean cache …). The implementation is compatible with iOS 6 and, even though the creators have warned that was giving faults with this version.