This computer saves a lot of desk space. Its design is elegant and functional. The HP Envy 23 TouchSmart have a 23-inch widescreen (58.4 centimeters) that gives a resolution of 1,920 by 1,080 pixels.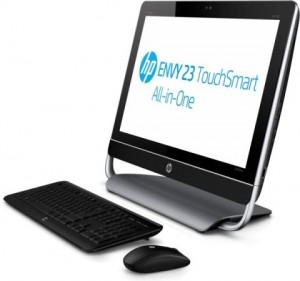 It's a WLED display touch and sensitive to touch the multi-touches; in fact, you can detect up to ten fingers. At the top of the frame is the HD webcam with integrated microphone. In this way, the user will be able to take full advantage of the next Microsoft operating system, and is leaving the factory with a Windows 8 pre-installed 64-bit.
As usual with all in one computers, in the package are an optical mouse and a full keyboard, both wireless. It is powerful machines and a high performance, valid both for work and for leisure. Even with video games can be demanding action. Storage takes a SATA hard drive at 7,200 rpm with a generation capacity of 1 TB, which has a 35 GB partition for system recovery. It comes complete with a SuperMulti DVD burner.
These machines of HP can connect to the Internet and other networks by both Ethernet 10/100/1000 as via Wi-Fi (802.11 b/g/n). Regarding connectivity, have two USB 3.0 ports, four USB 2.0 ports, stereo audio output, combined output connection for headphones or microphone input, and a subwoofer output. For now, there are two configurations available for these new computers all in one: HP Envy 23-d001es TouchSmart and HP Envy 23-d004es TouchSmart. Differ in three specifications: processor, RAM and graphics card. The graphics card is the most advanced of the HP Envy 23-d004es TouchSmart, a NVIDIA GeForce GTX 630 with 2 GB of dedicated memory for video, which also leads Cuda technology. By contrast, the other model (23-d001es) has an Intel HD Graphics.
The more powerful processor is installed on the HP Envy 23-d001es TouchSmart and is Intel Core i3 2130 to 3.4 GHz with 3 MB of cache. For the HP Envy 23-d004es TouchSmart, the chip is also the same manufacturer but is an Intel Core i5-33305-2.5 GHz and 6 MB of cache. Finally, while the RAM can be expanded up to 16 GB both configurations into two modules, the Envy 23-d004es comes standard with 8 GB (two modules), while the Envy 23-d001es stays in 4 GB (in a single module).
To take up even less space, it is possible to install it on the wall, previously acquired a special support. Its weigh 11.4 kilos and its dimensions are 58 by 21.4 and 45.5 inches. The computers all in one HP Envy 23 TouchSmart will go on sale throughout the month of November from 1,400 euros.