Fall is just around the corner comes hot on all matters relating to the launch of new computers. All PC makers want to ride the presentation of the new operating system from Microsoft. HP does not want to be less and prepares various machines for the occasion, as the HP Spectre XT TouchSmart.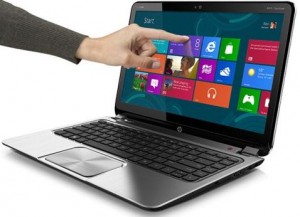 It is an ultrabook with touch screen that intends to squeeze to stop the possibilities of the new interface in Windows 8. But it is also a laptop with a very attractive design and an excellent picture. It is a true ultraportable machine that even having a touch screen, measures only 17.9 millimeters thick.
Closed presents a stylish look, thanks to polished aluminum finish. Once open first thing that attracts our attention is the touch screen. It has a 15.6-inch diagonal; is an IPS type LCD with LED backlight that offers high resolution of 1080p (Full HD). Then there is the full keyboard that has backlit keys, so there will be no problem using it in the dark. Just ahead is the trackpad, which is quite comprehensive, although space is more than enough power to comfortably support your wrists. It is not a touch panel either. The manufacturer has named HP ImagePad.
This trackpad incorporates image sensors that enable high definition multitoques with high accuracy, so that the control with finger gestures is as accurate as possible and the interaction with the machine is the most natural as possible. Above the display must not forget the HD webcam, which the manufacturer complete with its software HP TrueVision HD. Another interesting technology is the one that takes care of keeping in check the temperature of the laptop, which is essential to avoid problems for users. It is what the brand called HP Coolsense, a combination of design and construction of the machine led to an optimum heat dissipation more a software that manages the temperature dynamically.
As one would expect, this HP ultrabook incorporates Intel Core i5-3317U dual core 1.7 GHz processor with 3 MB cache, based on the Ivy Bridge architecture. Furthermore, the graphics card type is UMA. The operating system is pre-installed Windows 8 64-bit. The storage is dealing with an SSD and a hard disk. As for the sound, Beats Audio technology, the manufacturer usually include in their portable machines.
Connectivity is really complete and advanced. To the Ethernet port and the ability to communicate through wireless Wi-Fi there is that add Bluetooth. It also includes two USB 3.0 ports, one USB 2.0, a headphone output on stereo minijack, an HDMI digital video output and a memory card reader.
So far there is nothing surprising, but the Spectre XT TouchSmart will be one of the first products of the brand offers a port Thunderbolt. It also has a connection with WiDi (Wireless Display), suitable for streaming video in high definition with 5.1 surround sound channels to a compatible screen without the need for cables. Finally, weighs 2.2 kg. Throughout this fall the HP Spectre XT TouchSmart (Model 15-400es) will be distributed in stores at a retail price of 1,600 euros.