It was rumored in recent months that the Japanese company Sony was preparing a review of its home console, PlayStation 3, or by the ideas of the company were not yet interested in the next generation of consoles and a series of images a slightly thinner PlayStation 3.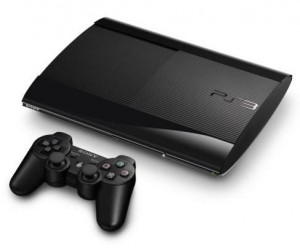 Finally the rumor has become reality and Sony has announced the model Super Slim PlayStation 3. During his speech at the Tokyo Game Show, Sony has also revealed its release date: September 28 and October 12, depending on the model that we choose, which we will detail later.
This model, as expected, has a number of advantages over its predecessors, plus new colors: Charcoal Black and white. The main advantages are less size and less weight than previous versions. Thus, the new PS3 will be 20% smaller than currently known as the "PS3 Slim" and 25% lighter, with all the advantages that this includes, besides having a different design. This is not a version with technical improvements or modifications, so that all the accessories and peripherals for the console will work perfectly, if we decided to change our current model.
At launch, later this month, will come with different prices, which are determined by the internal memory capacity. So, we'll see a model with 500 GB of disk space at a price of around 300 euros, and another with 12 GB price reduced to 230 euros. It must be said that the memory of this latest version is of Flash type, very different than the system of hard disks that the desktop console from Sony has been using until today. The 12 GB model will be exclusive to Europe, as both Japan and America will receive a different model of 250 GB hard disk.
The console does not come alone, but that there will be a pack of most console game and extra content for those who opt for this model. The game will be editing including "Game of the Year" of Uncharted 3, the latest award-winning adventure of Nathan Drake for PlayStation 3, in addition to a download code for the game Dust 514. They also confirmed the launch of a pack of Super Slim PlayStation 3 with game Assassin's Creed 3 has also been confirmed, but is unknown if it will reach Europe or will be exclusive of United States.
The company does not even want to think about the next generation because, according to executives of PlayStation, "much remains to be see on PlayStation 3", leaving aside all rumors that the development of a PlayStation 4. Its new model confirms that PlayStation 3 not everything has been said in this generation and that will continue to be the flagship of PlayStation consoles in desktop.