In the full rush of presentations of tablets and portable touch screen of a large number of manufacturers turn to a desktop computer that also incorporates its own multi-touch touchscreen.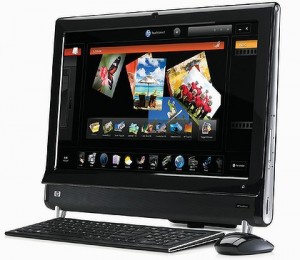 This is not entirely new, since the HP manufacturer had this peculiarity in any of their equipment for a couple of years, however this 600 if it makes a substantial improvement over previous models among other things for its operation through Windows 7, an operating system designed to operate with touch screens.
We could say that this computer has a quality rather than a current capacitive screen, but does not a resistive. It must be calibrated first so that it works well, but sometimes still fails in general use. Its performance is quite good when using the applications that come preloaded for viewing photos, videos or listen to music. This is where you can capitalize on the multi-touch interface and operate with two fingers when photos to zoom, move, rotate, etc…
On the other hand, and going deeper in use, it can be seen that the multitouch is useful for some applications related to video editing or image but has a bit chaotic to others, for example, when trying to work with applications Office Suite, such as Word or Excel. The enlargement or reduction of the documents remains very intuitive, but lacks it precision to be able to copy and paste text fragments, to cite a failure.
However, it is not recommended for home users who want to allocate computing functions. The touch feature to browse the Internet just tired for routine use, but of course, there is always the possibility of going to the peripherals of a lifetime as a keyboard or mouse to interact.
Things change if approached the TouchSmart600 as a Media Center with included TV screen (Full HD, by the way) for the living room. Its multiple possibilities of connection of input and output, the absence of cables (the keyboard and mouse are wireless), its integration of the CPU on the screen and good response of sound can confer this function with very good results. The experience can be complete when using some Internet platforms targeted at storage of videos and films or if connects to a video game console.