IBM will partner exclusively with Apple to sell iPhones and iPads equipped with applications for business customers from the fall, the company announced yesterday.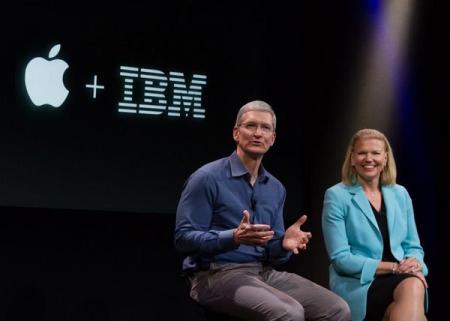 The announcement, which comes two days before IBM reports its results of the second quarter, comes as the firm intends to focus on software and services while their hardware unit continues to face problems, and after a series of acquisitions of software for mobile devices.
IBM launched this fall from more than 100 applications aimed at specific sectors such as retail, health, banking, travel, transport and telecommunications.
"We want to focus on creating a compelling work flow, processes, designs together with applications that can be used by all users in the organization", said Bridget van Kralingen, senior vice president and head of IBM Global Business Services, Apple's headquarters in California.
"We wanted to remove some barriers in current mobile regards to business", she said, adding that executives are concerned about security, use of the cloud and installing applications on their mobile devices.
Tim Cook, CEO of Apple, told that his company is using IBM's help because they do not understand the needs of corporate clients as well as knows those of consumers. Ginni Rometty, CEO of IBM, said the alliance will help their company to expand the customer base for its technological tools, providing higher profits on approximately 24,000 billion that IBM has invested in data analysis.
"It is a partnership that brings together the best of Apple and the best of IBM", Cook said Tuesday. "It is two electric power plants triggering mobility (for business)", Rometty said. "This will transform professions and industries".
By joining forces, Apple and IBM hope to build mobile applications that demonstrate that iPhones and iPads can be used for many other business purposes in addition to check email and stay on top of appointments. Cook says the devices are already used to work in almost all companies in the Fortune 500 list.
The partnership with IBM could help Apple to address ongoing concerns about software security and privacy of data in mobile phones, thanks to the support of an experienced partner who has excelled in the industry for decades.