Found serious security flaw in Internet Explorer that allows cyber-criminals to attack the user's computer. Though some details are still unknown for this error, and there have been successful attacks that infect victims with malware.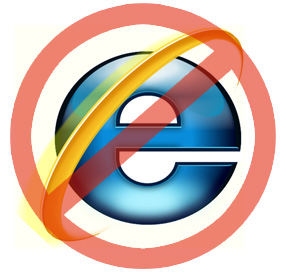 Microsoft is working to release a patch to address this security issue. While preparing this update, the company has advised users to download a free security tool from Microsoft and change Windows settings to minimize possible damage.
As indicated from the security company Rapid7, from hole found in Internet Explorer the spammers could get the same permissions system that the victim (that is why one of the tips of Microsoft consists in lowering the user permissions for the harm, in the event of, whichever is less).
To carry out a successful attack, cyber-criminals should convince the surfer to visit a malicious web page designed for this purpose. Internet Explorer versions affected by this hole are Internet Explorer 7, Internet Explorer 8 and Internet Explorer 9.
Another temporary recommendations are put forward from Microsoft is to download a security tool on the page of the company called EMET (Enhanced Mitigation Experience Toolkit). This tool should mean an extra layer of security, though not a foolproof protection against attacks that may occur to exploit this vulnerability in the browser.
Despite Microsoft's efforts to provide safe alternatives to continue using Internet Explorer during the period that remains committed to the safety of the browser, the easiest solution is to opt for other programs to access the network. Firefox and Chrome do not have this security problem, so users can surf the Web safely.
Knowledge of this vulnerability comes shortly after Microsoft released its monthly update security for their most popular products with just two holes fixed. It seemed that this was going to be a month very quiet for security company, but the presence of this hole can generate many questions about the ability of the company to offer a reliable navigation tool.
Moreover, the occurrence of this error could not come at a worse time, since we are on the eve of a new battle for dominance of the browser market with the release of Windows 8. Changing the interface of the new system will cause Microsoft, Google and Mozilla to launch new versions of Internet Explorer, Chrome and Firefox adapted to this platform. Not be excluded that other rivals are able to get ahead in this race with a different bet. In recent times, Microsoft seems more vulnerable than its competitors in the security flaws.