The new KODAK SLICE, presented as a new touch screen, in a simple model but with an attractive finish. The device line features the most demanded by the market: geo-location, face recognition, photo tagging, or the ability to upload photos to the major social networks.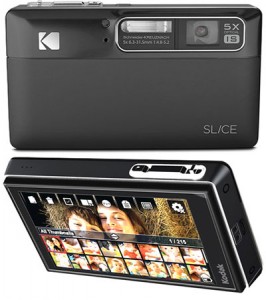 Perhaps the most striking feature of the camera is its touch screen and therefore this design that eliminates the buttons that are normally found in a device as well. Therefore highlights the simple and clean visual appearance with only four buttons at the top: power, zoom, play to display photos and videos and the most important facts, which lets you take a photo or video.
The camera has a resolution of 14 megapixels for photography and HD video. And also has a 5x optical zoom.
Among the options for taking pictures, there is a Smart Capture mode, which will facilitate the user to use the device, it automatically detects the scene and sets the necessary adjustments of ISO, focus, or the proper exposure time, until 3200, although it is very practical, you should also keep in mind that the amount of noise increases and reduces the depth of field.
But there are also other modes, such as scenes, including several modes with pre-settings, to best suit the moment to be captured. There are modes for sports, portraits, photography to children or scenes with high ISO values, among the many existing. There is also the possibility of taking panoramic photographs, which is made from three photographs, which the camera itself will join later and the results are quite good. To take the photos, it appears on the display edge of the previous photo, to allow greater precision.
If instead you prefer a little more control of the camera settings, you can choose the program mode, which lets you select the ISO, exposure time, or compensation thereof. On the other hand, you can also adjust the white balance, but only from the pre-set in the camera, i.e. not allowing for manual balance, nor allows the focus.
The negative point should be emphasized that the touch screen, although it is charming, may also prove to be a bit cumbersome. This does not give very good results when navigating through the menu and make the necessary selections. At the moment you need to make any changes to the pre-set settings, can slow down a lot. This screen, which is 3.5″ LCD has the image quality quite low, since it seems to make noise, but when you take the picture, disappears. Therefore, the screen is not faithful.
The upside is the ability to share photos with social networks and the ability to tag a person, place or event in a photo from the same camera.