The Japanese giant Sony has announced lounge new TV with Full LED technology. The new Sony HX95 equips the new Full LED backlight system, and the latest image processing technologies from Sony. It is of course a 3D TV, and actually has a very attractive, thanks to its sleek, minimalist design and its aluminum circular support. The Sony HX95 will be available in sizes of 55 and 65 inches and its recommended selling price will be between 3000 and 5000 euros, respectively.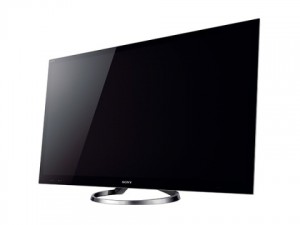 The new Sony HX95 is notable for its elegant design, which follows the line of the Japanese firm Monolithic. Finished completely in black, and with an attractive slim appearance, the HX95 is supported on an original circular aluminum support. This support allows us to rotate and tilt the TV back between 6 and 8 degrees to see the TV properly if you set it on a base unit, for example.
The Sony HX95 incorporates a high definition LCD screen with Full LED backlight system. This technology is based on a LED array located behind the LCD that can illuminate very precise areas of the screen depending on the image being displayed at that time. Thus, we can highlight the white or brighter colors, and as well as create deeper blacks. The Sony HX95 also has the X-Reality Pro processor, which promises to maintain quality whatever the source that we have selected.
The same processor X-Reality Pro and Super 3D Resolution technology concerned with the process of three-dimensional images of the HX95. As in most 3D TVs, active lenses need to enjoy this system, so Sony includes two pairs of 3D glasses in the purchase of the HX95.
Another important feature in a TV of this level is network mode or Smart TV. The HX95 incorporates the function Sony Internet TV, through which to access the portal Sony Entertainment Network. Once there, we watch movies in high definition on demand, online music, browse the Internet or download applications. You can also watch YouTube, check accounts of Twitter and Facebook or communicate via Skype video conference. The network connection can be done through WiFi wireless port, accessing the Internet without having to connect any cables.
In short, the new Sony HX95 is clearly a high-end TV, in view of its performance and its price. Those who want to be with this attractive television must wait until next December, when available. The retail price of the Sony HX95 is recommended for 3000 euros in the 55-inch version, and 5000 euros for the 65-inch.