Trust has launched a new mouse designed to meet the needs of the more gamers by adapting to the required sensitivity in each moment of the game.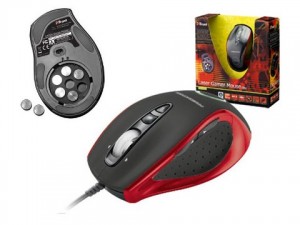 Very ergonomic design fits in the palm of hand and allows a firmer grip thanks to its soft rubber finish. In addition to the red and black body side rubber grips, highlights the colorful touch to bring the LEDs that change color to indicate how we are using the mouse.
This peripheral sticks out because you can adjust the sensitivity dpi by pressing a button specifically created for this that is located below the wheel. So you can use the mouse between 400, 800, 1600, 2000 and 3200 dpi or press the mode button, next to the dpi button, to adjust for each game. Depending on which buttons are pressed, you will see a different color on the mouse wheel or in the pilot of modes.
The mouse includes seven small weights to compensate for its movement and achieve a drag smooth and accurate. It is possible to open the compartment at the bottom to adjust the weight and balance, for greater comfort and ease of use, selecting the number of weight that we consider to be appropriate.
At the bottom also includes four levels of teflon so that the mouse can glide smoothly on virtually any surface, and connects to the computer via a USB cable.
Through the gaming software you can edit and assign commands to certain buttons (such as shot mode, mode loop, horizontal scrolling, etc. .) and program profiles and keyboard macros, for example.