Sony has reason to remove and chest and feels proud of his latest creation, Laser Light Source Projector technology. The Japanese giant gets his projector family to talk about and is placed at the top of the ladder with an innovative laser device. Not any projection system, Sony claims is the most powerful in its class and the first model of the world that features 3LCD technology.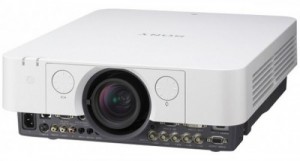 It follows the popular design VPL-FH36 you see in the image model considered the best of its kind in European lands. The chassis is finished in pure white, which promotes harmony in any environment, especially in the corporate and educational sector. Knowing that in business the projector is used for long periods of time, the Laser Light Source Projector promises durability of the lamp and therefore lower total cost of ownership.
The new Sony Laser Light Source Projector system offers a considerable 4000 lumens of brightness, extraordinary picture quality, better contrast ratios and color balance, making it the ideal equipment when other conventional model does not measure up in environments where light conditions unfavorable. Sony says the lamp in this system with WUXGA resolution (1,920 x 1,200) has a lifetime of 20,000 hours.
It also has a curious mode that allows you to mute the image while the audience is placed to start the presentation quickly. The first units of Laser Light Source Projector will go on sale from summer time when we have more information and put a face to world's most powerful 3LCD projector.