Lenovo IdeaCentre Q190, a computer lounge with a modern design and an enviable size to go unnoticed, in addition to the new processors Intel Ivy Bridge Core i3, leaving aside the Intel Atom processors that normally were assembled in these devices and that performance left much to be desired.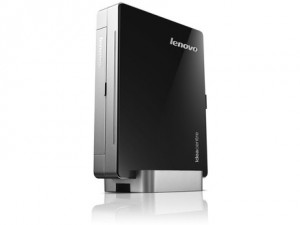 Not only that, but Lenovo has included SSD storage in Q190, perfect to fit into the housing of only 22 millimeters thick, with a minimalist style that includes a base to place it vertically and not only place it horizontal, also including anchors to VESA mounting type (like the iMac) to place it behind a TV or monitor and be hidden completely.
It has four USB 3.0 ports, an HDMI, VGA, Ethernet, SD card reader and S/PDIF digital audio, as you can see nothing wrong in terms of connections, taking a complete package to be virtually compatible with the latest current multimedia technology.
Its full specifications are:
DVD combo that can be replaced with an optional Blu-Ray reader
Intel Core i3 with HD3000 integrated graphics
1TB hard drive and 24 GB of SSD memory to boot
8GB DDR3 RAM memory as maximum
Windows 8 Pro as maximum
Lenovo Enhanced Multimedia Remote N5902 optional).
Its availability is announced for the month of January 2013, still has not spoken to its official price although it is speculated that this range between 400 and 600 euros depending on the configuration chosen.