Lenovo has made official its Lenovo IdeaPad Yoga, a device that was presented in January and we even have our first impressions.
The official information is now once again confirms the existence of two models of 11 and 13 inches, and all of its features. We also have an official release date of the 13-inch model, on October 26 to coincide with the launch of Windows 8.
Lenovo IdeaPad Yoga 13
The larger of the two is the Lenovo IdeaPad Yoga 13, a convertible laptop where the screen can be rotated to place it on the keyboard. The concept you know how it is and thanks to the possibilities offered by Windows 8 will have a computer that is portable and tablet at a time.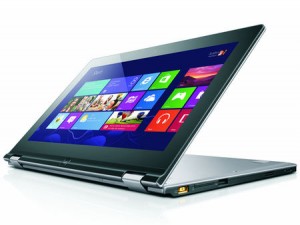 The screen, as the name suggests, is 13 inches, and touch with IPS technology. It brings a resolution of 1600 × 900 pixels and will be available with really powerful hardware, with Intel Core 'Ivy Bridge', SSD and 8GB of RAM. However these features will vary because there are several ranges within the same model.
The highlight of the Lenovo IdeaPad Yoga 13 is undoubtedly its design, which allows for this dual-function laptop-tablet but at the same time saves a certain power of seduction. Its thickness is 16.9 mm and allows a range of up to 8 hours.
To be a device with Intel Core fully uses Windows 8. The prices range for which will be available in the U.S. start at $1,100.
It has been announced is that this 13-inch IdeaPad Yoga will be sold the same October 26 that Windows 8 will be launched.
Lenovo IdeaPad Yoga 11
The concept is interesting but perhaps it is a little big. Well, we are fortunate to also be available the type of equipment but something smaller, and smaller hardware. It is Lenovo IdeaPad Yoga 11.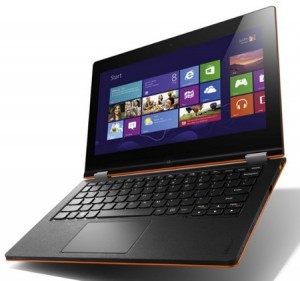 Same design somewhat thinner (15.6 millimeters), also with rotary screen format o use it in tablet format. The IdeaPad Yoga 11 will have a diagonal of 11.6 inches and a different hardware, focusing on NVidia Tegra 3.
Less size and a change to the ARM architecture that will have an impact on three major factors: performance slightly less but with autonomy significantly greater, up to 13 hours according to official figures. The third factor is more important to the user. ARM architecture that will make the Lenovo IdeaPad Yoga 11 have Windows RT, version 'reduced' to Windows 8.
The availability for this equipment is delayed a few months and in this case we are not talking about end of October, if not the month of December. The price is also lower, and the United States will be sold starting at $800 for the basic version.