There are several months now proposed a Samsung smartphone with a laser projector to enjoy a wide image on a wall in situation of mobility. Today, the principle resurfaced with Lenovo Unveils Smart Cast, a smartphone that goes further because it allows interacting with the projection.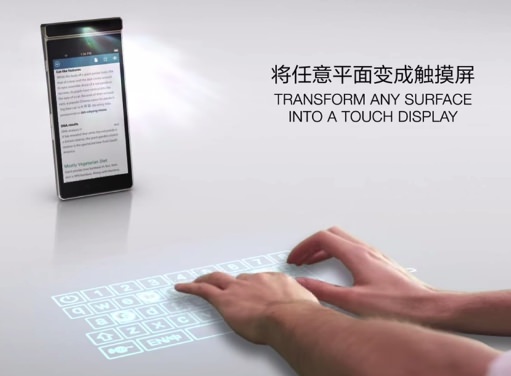 The Samsung Galaxy Beam integrates a projector to project a picture onto a screen or wall and that, in any situation. Released in 2012, the machine has a great success despite its innovative principle yet. Currently, the Chinese manufacturer Lenovo takes its Tech World in Beijing, a venue presenting his vision of the future devices.
After presenting a watch connected to two displays, Magic View, Lenovo also unveiled a smartphone prototype embarking a projector to laser technology. So it can display an image on a wall, a screen, a simple table, etc. But its uniqueness lies in the fact that it allows to offer a touch surface and so interactive, for example, to disseminate a keyboard on a table so that its user uses.
A projection of a piano keyboard was also shown as shown in video below. The possibilities are wide enough but Lenovo has not announced any release schedule for this prototype called Smart Cast.