LG LSM-100 Scanner Mouse is perfect for those who do not have a scanner and do not use it much, or for mobile users, they will always have at their disposal the possibility of scanning the page of a book or magazine or business cards.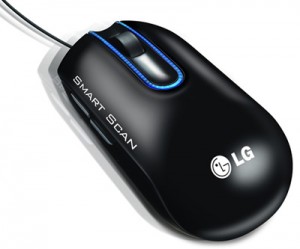 The scanning hardware is located in the bottom of the mouse and is able to scan full pages, parts of pages and store that information, but also the software that runs the mouse, the Smart Scan of LG, you can put those images or documents directly on Facebook, Twitter or Flickr.
Smart Scan, moreover, can also be used to bring images to photo processing programs or convert scanned text into editable text by the OCR software to Abby. Of course, you can also print the scanned documents.
Install mouse and Smart Scan software is very simple. You only need to connect the mouse, wait for it to load the driver and check the computer's technical characteristics. The installation of the software, only available for Windows, lasts a few minutes.
The first screen that appears is the Smart Scan application, showing which buttons should be used to initiate scanning. Control is simple because a same button initiates starts and ends the scan. Scan parts of documents is easy, but a standard A4 page takes time and you have to be careful not to run off the page so that the scanning does not stop halfway.
Also be careful with the mouse cable, sometimes hinders. We assume that the problem of the duration of a battery is what has led to LG to not opt for a wireless model, which would be more useful.
Smart Scan offers seven functions, being the most interesting that allows to share the scanning in social networks. The editing functions are limited to brightness, saturation and contrast of the scanned document, while the paste text allows users to use Microsoft Word to paste text or the paste image allows carried CorelDraw or other image-editing programs.
You can make configuration changes, such as changing the scan resolution and file format in which to save the scanned file: JPEG, TIFF, PNG, BMP, PDF, XLS, Doc.
With a resolution higher than the 320ppp and scans up to A3, LG LSM-100 Scanner Mouse is an ideal product for those who are constantly traveling and did not want to carry multiple devices.