Given that the sales results of the new Wii U are not expected, it seems that Nintendo has decided to launch a new finish to enhance sales. And so in a few weeks, on March 27, will go on sale Wii Mini, a new version of the popular console whose size (and price) will be slightly reduced.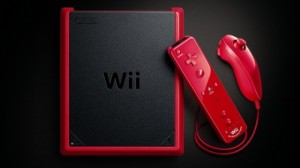 The launch of the new console will also include a series of family games framed within Nintendo Selects.
Although it is less than a month for the Wii Mini fill the shelves of local expertise, Nintendo has not made ​​public the price that the new console will have in Europe. But the 99, it costs $99 in Canada can help give us an idea about where the shots can go as far as prices are concerned.
Several months ago, Nintendo Canada unveiled a new version of the popular Wii console. It was characterized primarily by a design consisting predominantly black and red.
Now, the company has announced that during the month of March Wii Mini, smaller than the original, come to Europe.
The pack we can buy also includes the console, a traditional controller and nunchuck. But if you already have a Wii and have the old one of the many accessories that came out for it, you can continue to use them without problems, since the only difference between this new model and the previous one is the design and size.
Although we will lose the ability to play online, we will be able to continue using in the Wii mini all the games that we had for its older sister.