The Socialmatic digital camera will reach the windows in the first quarter of 2014. According to the press release issued by the executive director of the firm, they have reached an agreement with Polaroid to turn into reality the Instagram prototype.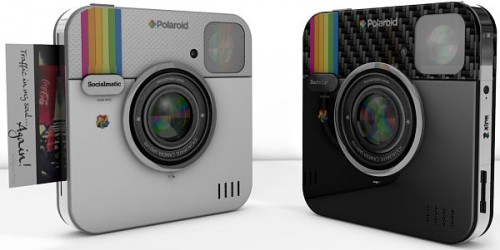 In a few months, Instagram became the most used application on iOS photo sharing, reaching a whopping seven million users. The app began as a more to portray the world around us in an original and extremely fun soon became a mass phenomenon contemporary. Its stunning worldwide success and immense popularity has not gone unnoticed by large photographic industry.
The Socialmatic digital camera gets move Instagram concept to a physical device. It has progressed from being a mere prototype to become a reality by the hand of Polaroid. Both the design and the technical specifications are still in the air, but its launch is planned for the first quarter of 2014.
The camera would make it possible to apply the same photographic effects that the implementation, as well as filters, frames, retro colors and vintage, etc., And print postcard-sized photos instantly.
The images that illustrate the press release are conceptual, which means that the design, size and even the position of the logo of the involved brands may vary. Apparently, adopt a square shape inspired by the logo of Instagram.
It was also rumored to have wifi connection for allowing us to share the photos captured directly in the various social networks. Some sources suggest that will feature 4.3-inch touch screen, Bluetooth connectivity and 16GB internal memory.
Socialmatic sealed a deal with C & A Licensing giving Polaroid the rights to develop the prototype under its own brand. The agreement includes accessories such as carrying cases for camera, lenses and filters.