Who says what a smart watch? What is it that you would smart? Does the right time to do so capable enough? There is a maximum of design, which does not always apply, but sometimes it helps to understand some decisions, which says less is more; and this is what Michael Bastian understood, fashion designer responsible for creating the first intelligent clock for HP.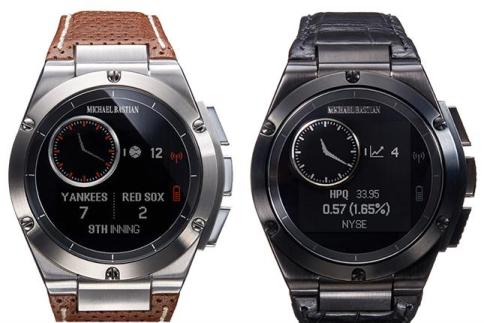 In the middle of the race to secure a space in dressing technologies and anxiety that printed the entire market of the Apple Watch, HP used a renowned fashion designer to give a distinctive touch to their entry in this burgeoning segment. Faced with this challenge, Bastian chose to take a different path for all competitors; perhaps encouraged by his creativity.
The result of this process was a device that borrows the best of traditional watchmaking and most practical technological world. The MB Chronowing has no touchscreen or pedometer, also does not have Wi-Fi or accept voice commands; simply a watch that in addition to providing the time, the weather, the stock market and the date (among other data), connects to phone (Android or iOS) for through vibrations, tell you when you have pending notifications.
Outside, the MB Chronowing passes a clock more than can be achieved in the traditional market. Metal body, rubber strap, leather or metal, depending on the user. The only difference is that instead of hands, the MB Chronowing has a monochrome LCD screen. Like traditional watches, has three buttons that can navigate between different screens that allow light to activate or operate the music player. The battery life on one charge is seven days, rather than its competitors in the smart segment.
The MB Chronowing will be released in two versions: a limited, taking sapphire crystal and crocodile leather strap, which will cost $649; and a regular version will have three different types of belt and will cost $349.