With the appearance of GPS Navigator, Memup Pocket PC enters the tablet market with some shortcomings, such as not being multi-touch even though it has a resistive screen and not having a GPS module that allows the user to take advantage of services location, or Bluetooth wireless technology.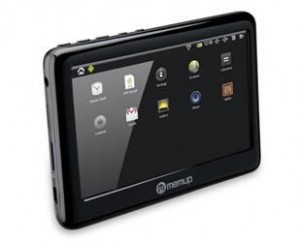 Among the aspects that characterize this "Mini Android Tablet", highlight the 4.3-inch screen, which makes this team in one of the tablets of the smaller market, closer to some smartphones of its older brothers.
Memup opted for Android 2.3, Gingerbread and incorporate several features that must be in any tablet that boasts, however small, as WiFi connectivity, camera (rear of 0.3 megapixel), Micro SDHC Card Reader or speakers.
The processor Boxchip F20 533Mhz and 512MB RAM remain quite tight, something that is noticeable when moving from just one screen to another, you want to save a bookmark when you are surfing the Internet or just simply downloading an application from Android Market.
As for the screen, TFT with resolution of 272*480 pixels and format 16:9, not only isn't great but that does not have a contrast that allows you to enjoy the tablet in light conditions. As we have said is not multi-touch, which means you can not get zoom on web pages you visit with a pinched fingers, for example.
A plus is the number of supported formats, both audio and video, allowing users to enjoy a wide variety of multimedia files.
The costs EUR 99.99 and 8GB of internal storage capacity are probably the best features of Memup Pocket Pad.