Everyone knows that the universe of smartphones has many uses besides to send and receive calls. The iPhone is one of the stalwarts of the smartphone revolution and more gadgets that appear for this device.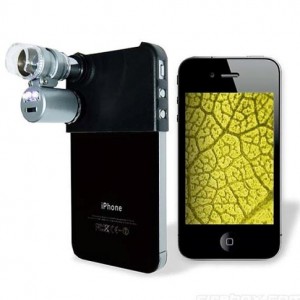 If you want to convert your iPhone in a real microscope here we present you a gadget that will allow you to enjoy a different experience, to see with much more precision anything that you propose.
It is a mini pocket microscope that can be easily carried in your pocket and use is extremely simple, just have to attach it to the corner where the camera lens of the iPhone, hear the click and it's ready to operate.
It has LED lights that will allow us to take pictures of everything that we have on the objective of the microscope. It is valid for iPhone 4 and 4S, supports up to 60 times, 2 LED lights, UV LED light and works with three LR1130 batteries included in the price of 39.95 euros.