Announced as one of the first smart watches based on the Android Wear platform, Moto 360 does not have a date of release, though it is estimated to arrive sometime this winter. However, Motorola took the announcement by Google in its developer conference and in an official video showed many of the features offered by their smartwatch designed with a round touchscreen.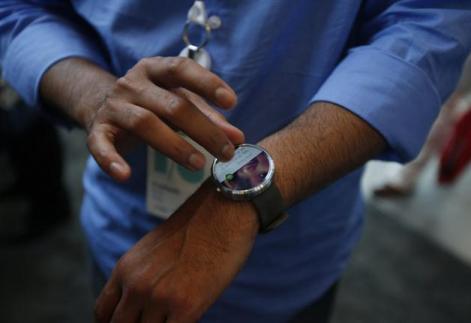 In this short demonstration, Moto 360 design does not differ with respect to any other model of traditional watch with a leather strap, a circular metal box and time, even when it is in power save mode. Its round touchscreen can be activated by tapping or pressing the side button.
Once activated the smartwatch, the user can access other views available in the Moto 360 to perform a short press on the screen and then slide your finger to the left to enable other clock designs.
The notification panel is activated by a movement from the bottom up, and there are SMS, notifications of Hangouts, the weather or calendar reminders. To switch to another alert repeats the same command, and by a gesture on the screen from left to right you can review those reminders that were overlooked.
Each notification may have more features available if you perform a reverse movement, from right to left, such as the extended calendar or to continue the sight inside the associate mobile phone.
In turn, to take or reject a call from the Moto 360 must slide your finger on the touch screen from the right or left rim, respectively.