In the middle of 2013, in full romance with Google, Motorola came out to spread some of the interesting projects on which it was working for, taking advantage of technological advances radically change the experience of mobile users. The axis, on which the company was working at that time owned by Google, was the customization and the safety of the equipment.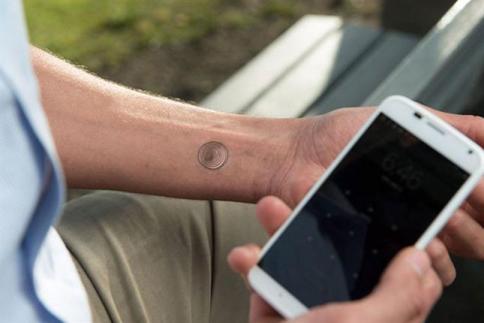 One of the projects was a digital tattoo that allows us to unlock the phone without having to remember a password or a gesture pattern and avoiding the fingerprint system which, in the early days of its launch, many headaches gave it to Apple.
Now, almost a year after its announcement, Motorola officially introduced Digital Tattoo, a small flexible adhesive device the size of a coin with a chip that communicates with the phone via NFC. The "digital tattoo" is washable and has a shelf life of five days.
How does it work? The user attaches one of the dressings and connects their phone with the sticker via NFC. Once communication is established, the phone can be unlocked simply posing on tattoo equipment. Unfortunately, this system works only for now, with Moto phones X.
As explained by Deepak Chandra, responsible for this project, the average user spends 2.3 seconds to unlock their phone and repeat this task about 39 times a day. Even adds the engineer, it is so inconvenient that over 50% choose to play around and decide not to add any type of lock to the cell.
This development is the result of joint work of the Advanced Technology Group and Google projects (before the sale of Motorola) and the Japanese company VivaLnk.