When Samsung launched the Note about a year ago, many people were skeptical about this new device. A screen too big, sharpens a pencil for phone control and high cost were some of the criticism that rained down at the time. Now a year later the Koreans Samsung have confirmed that their commitment to these type of devices with the introduction of the new Note II. Here are all the details.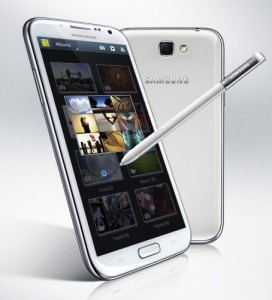 The secret of the Galaxy Note II is on its screen. Its 5.5 inches in size with Super AMOLED technology with resolution of 1,280 x 720 pixels makes it a real viewer of maximum quality for any type of content. However, to control it, in many cases, require two hands, because its dimensions are 80.5 x 151.1 mm, a thickness of 9.4 mm. And, of course, with a specific pointer very useful for certain applications.
Inside the device is a real jewel technological. To move all those pixels Koreans Samsung have placed a quad-core processor at 1.6 GHz and 2 GB of RAM with an internal memory of 16 to 64 GB depending on the model. As expected level of connectivity and storage options are many. From classic microSD card slot up to Bluetooth 4.0, GPS and NFC contactless payment system among others, and is compatible with 3G and 4G LTE networks.
Its camera is another of the strengths, though not particularly outstanding. It allows to record video at resolutions of 1080 pixels thanks to its 8-megapixel rear camera and integrated LED flash. The front camera, meanwhile, lost many integers and low resolution to 1.9 megapixels.