Philips brand developed over many years of lighting solutions for businesses and individuals. Having recently launched the Hue range, remote controlled lights, and the manufacturer simplifies the way to vary the intensity of light in the marketing Dimming Kit.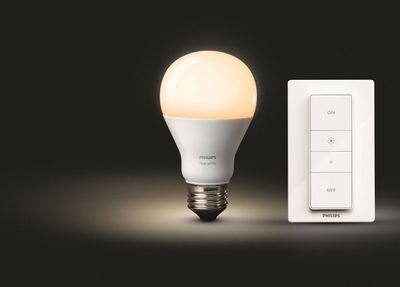 The Dimming kit consists of two devices: the bulb and remote control. It is completely ready to use, simply screw the bulb of the kit in place of your old model and control wireless and remotely with the included remote control. No change to the existing electrical installation is necessary.
The Dimming kit, it is possible to create different atmospheres. Up to 10 Philips Hue White bulbs can be controlled simultaneously. Furthermore, if we want to go further in connectivity and lighting control, the bulb is compatible with the Hue system; it is possible to connect to Hue Bridge to take advantage of all Philips Hue applications via a smartphone or a touch pad.
The Philips Hue Dimming Kit will be available in September for about €40. Count about €20 for one bulb.