Designed in Santa Cruz, California, a detail that can be enrolled in the headphones, the Audio 476 DSP is one of the proposals of Plantronics, a renowned manufacturer of headphones with one of the best reputations in the market.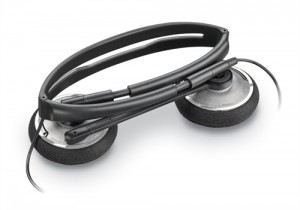 The first thing you'll notice about this proposal is that are foldable and therefore very easy to store, and especially to transport. And when we say folding we mean not only the headband, but the earphones, which can rotate 90 degrees. It is also USB, a connection system that is being used increasingly instead of the traditional 3.5 mm jack and allows a single slot tend not only audio but the voice. In addition, to be plug & play there will be no need for software installation.
Despite being folding are very comfortable and lightweight, and are fully adjustable. The microphone can stay upright, away from the lips and can be adapted.
Among the technical features of the Plantronics Audio 476 DSP highlight the noise-canceling microphone, which ensures that what is said is heard clearly despite the noise environment, as well as echo cancellation, thanks to which we can listen without background noise and ensures capturing voices clearly.
Regarding this last highlight that headphones are not only ideal for listening to music clearly, but to enjoy online multiplayer games. It is also certified for Skype, so it offers a lot of options. Add that in addition compatible with PC and Mac OS.