Those who are a looking for a TV to cover a room very, very large should have a look at the new creature that has presented Samsung at IFA 2012 in Berlin. The new Samsung ES9000 Smart LED TV offers no less than 75 inch LCD display with LED backlight, high definition and 3D picture support.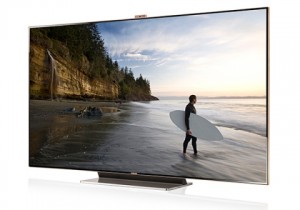 This new Samsung ES9000 Smart LED TV certainly stands as the top model in LED TVs from the Korean company, and comes to meet the demand of those who are lucky enough to need a big screen to your big living room. With a size of 75 inches, the ES9000 Smart LED TV has LCD display with LED backlight and full HD resolution.
The New ES9000 Smart LED TV is of course compatible with images in 3D using active glasses. These glasses work alternately darken each of your lenses while the TV displays different images to each eye, creating the three-dimensional effect. The shutter speed of the lenses must be synchronized with the TV, so the two devices communicate via a wireless infrared connection.
As the name suggests, the Samsung ES9000 Smart LED TV is a TV connected Smart Content from the Korean company. The Smart Content gives us access to Smart Hub, which functions as a shuttle for watching movies or online series or YouTube videos. Also we can download many applications from the Samsung Apps website, and of course check our Facebook or Twitter accounts.
The Smart Content requires Internet access, and for that we can connect the ES9000 to the network via an Ethernet port or through a WiFi wireless connection. The ES9000 is also compatible with the Smart Kit Evolution. This system will allow us to have our TV set a day thanks to a card which, according to the manufacturer, updated equipment, improving performance and adding new features.
The ES9000 Smart LED TV also includes new Smart Interaction. This feature allows us to control the TV using gestures or voice commands. It is possible to increase or decrease the volume, change channels or turn the TV off and without even having to use the remote. The Smart Interaction has added other refinements, such as facial recognition system that enables such access our Facebook account. Another notable feature is the Sound Share, which shares the sound of the TV with other Samsung audio equipment via a wireless connection.
The Samsung ES9000 Smart LED TV is notable for its slim bezel of only 7.9 millimeters, which virtually disappears when starting up the TV, and also incorporates a retractable camera. Also notable for its golden pink color, you can like it or not, but certainly the difference from the rest of the range. And with so little context is not exactly the color that dominates the TV.