Today we will talk about one of the world's new Samsung who have shown us in this event today, the truth is that we have been astounded. For those you have not yet heard in this case we talk of Samsung Galaxy NX, the first digital SLR with Android.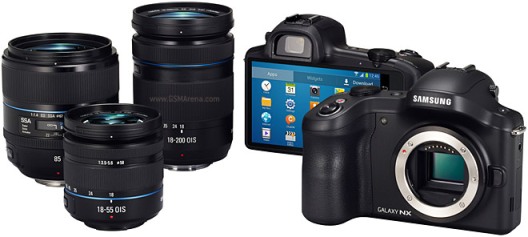 In this case, what you see in the picture, and as you can see come with a few interchangeable lenses with which to take advantage of almost any angle and any capture. Would you like to know what the technical features of the Samsung camera are?
Well, the Samsung Galaxy NX comes with an APS-C sensor with a final resolution of 20.3 MP. In addition, nothing less can get videos with 1080p to no less than 25fps. The camera also comes with a processor with Drime IV image signal which means you can take photos at 8.6fps with a maximum shutter speed of 1/6000 sec. Nothing wrong, right?
Although we actually find it quite interesting, especially because Android's is there, here is not just the surprise. The Samsung Galaxy NX comes with a screen of 4.8″ HD TFT LCD. As we refer to the operating system to Android 4.2.2 with TouchWiz 5, which comes with the latest mobile devices.
We cannot either forget the processor, which will be one to four cores with speed of 1.6GHz, 2GB of RAM and 16GB of internal memory, but you can expand it to 64GB with microSD. What do you think?