It is rather strange that a brand like Samsung launching a product of this kind in a market accustomed to competition. However, the firm has launched a new camcorder that captures smoothly although the future of daily life is far from the quality offered by many models of other brands.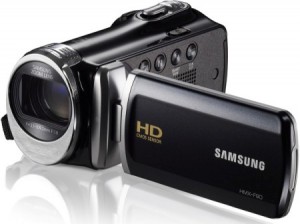 The new electronic toy Samsung HMX-F90 is a simple camcorder and without high performance that offers a recording of 720 pixels quality without reaching the maximum resolution is in what refers to HD technology, the prized 1080p.
It is true that this video quality will suffice to see quality images but it is surprising to know that a giant like Samsung has opted to release a model that somehow stays in time rather than bet on the latest in the field of image.
According to some versions, sacrificing quality responds to issues of simplicity of use and this is how the brand has thought of those users who want an easy to use even when this is not the best.
Outside of this issue, the Samsung HMX-F90 has some attractions as a 52x optical zoom, a video editing system that allows different shots together and Smart Background Music technology to add audio automatically. It also has a 2.7-inch TFT LCD screen, digital image stabilization and HDMI output.
The HMX-F90 has no wireless connectivity and is compatible with SDHC and SDXC cards.