Samsung closes the circle. Not comply with having the most popular virtual reality glasses Oculus VR, which work only with some of their phones, but they want consumers to share their daily lives, as they do now with videos and photos in that format. On April 29 goes on sale Gear 360, a simple camera, dual lens, intended for democratizing the creation of content for its glasses. It will cost less than $400. One of the most interesting and creative points is that the programs are included to be able to edit the results of the camera and be learning the narrative language.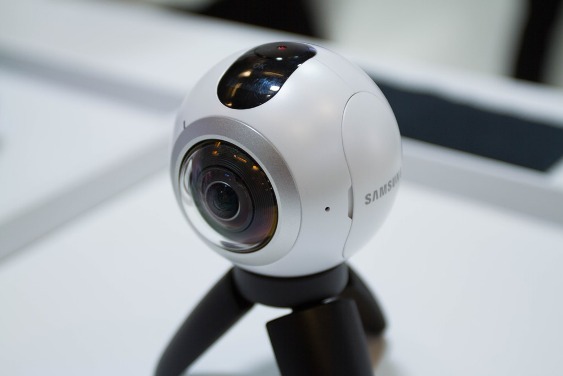 This was the announcement with more immediate impact of the SDC, the Samsung Developer Conference, which has released this Wednesday in San Francisco, but the real ambition manufacturer focuses on 2020 and the Internet of Things (IoT).
With Facebook and Google
Within its strategy there is a very intelligent decision, to be a partner of trip of big two: Facebook and Google. Bets range from the hand of both companies. Facebook to explore the virtual reality and make popularize consumption, and Google for mobiles, tablets and Internet of Things, its great vision of the future that also spoke. Three years ago, when they called to the creators of applications for the first time just attended 1,000. This week more than 5,000 are registrants and have paid $500 to have information and documentation to create first-hand. According to figures from Samsung, 80% of phones are Android and have a community of 3.6 million developers.
"For the first time in history there are more devices connected to the Internet that people in the world. In 2020, there will be 21,000 million connected devices. So we think that the future must be connected wherever we go. We have great opportunities ahead," stated Injong Rhee, hardware expert.
Samsung does not think about this season or next year but in 2020. That is their great goal. It is not a period as long as 10 years that Mark Zuckerberg projected a few days ago, but it does demonstrate their ambition to conquer a land in which Apple has not entered and where Google doubt – as soon buy Nest as that it stops giving support to a device with only a year of antiquity.
Samsung takes on the challenge of having its own ecosystem, with houses, doors, lights, stereos, cars and online payment systems. Also sensors in the cities or in our body. Rhee said it was a responsibility to take this step, but also an invitation to collaboration. "I think with a solid system can have better security," he said.
Samsung Pay is one of the most ingenious ideas. The Korean company has a patent that makes it compatible with any magnetic stripe card reader so it now works all over the world. No need to use the card, not the NFC chip (close contact), but simply put the mobile close to the dataphone so that the magnetic field to communicate as if passed the plastic band.
Android fragmentation, as it is called to the disparity of demands for programs run by the type of device and operating system version, was one of the facing problems. "It's very difficult to connect and develop with different systems," they argued to present Tizen IOT, their own system.
The connected car had its chapter, combining security and entertainment. They estimate that in 2020 there will be 1.4 million connected cars. "Most software platform in the world, behind only mobile", they stressed.
Samsung Auto Connect is a small device and ingenious device to be installed under the dashboard. By including the car is updated without having to buy a new model. The firm insists that it will help drive more safely and efficiently. It will include wifi, bluetooth and sensors for speed control. It was one of the announcements better received by the present engineers who soon will begin to create applications for cars.
As it is standard in these quotes, and with the exception of the camera 360, they did not give prices or exact dates of departure to the market.