Samsung Q10 is a video camera in high definition focused on a family use and feature by can be used with both hands, with an accelerometer that allows putting right the screen despite being rotated 180 degrees.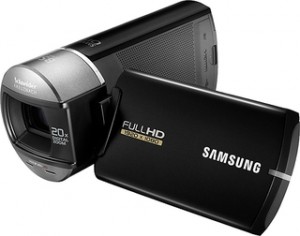 It is very simple, intuitive and easy to use. Its Smart Auto function has ten preset modes to capture the image depending on the situation: low lighting, portraits, sunset … and the camera automatically selects the best recording mode.
The Q10 also incorporates the option of recording in manual with its function Easy Manual with which you can calibrate the settings, white balance, exposure, selective approach, etc to the needs of recording.
Its have eliminated much of the basic buttons that have been replaced by integrating it into menus accessible via touch screen with a simple interface that allows you to drag and move icons in a very similar way to the smartphones.
Technically this camera has a 1/4″-type BSI CMOS sensor that improves sensitivity, this makes it to reduce noise in images by improving the recording in low light situations.
Its stabilizer, OIS Duo, combines optical and digital. Compensates for any movement of the hand or the body and makes the videos look sharp at all times.
A new feature Q10 brings the incorporated Switch Grip function. The magnetic G sensor recognizes when the camera is turned detecting in which hand it is. So you can hold it with both hands whether you're right or left handed.
This Samsung has some interesting features. For example, click artistic recording is possible taking Timelapse videos automatically while in recording mode "pause" can stop the recording and start again just where it was and go by editing at the same time.
Definitely a simple camera, easy to use and gives quite acceptable results without any pretensions to be a family Handycam.