Today, posting a video on YouTube has become extremely easy and this digital activity is increasingly practiced. Still, in many cases, the quality of the audio recordings leaves much to be desired. Razer has announced the release of a digital microphone specially designed for those who want to make no compromise on quality.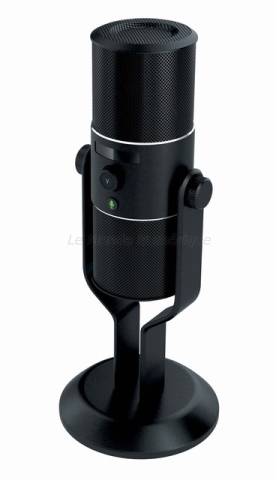 The new microphone Seiren Razer Pro is a device that is for YouTube contributors or those who wish to make quality audio recordings. With an XLR and USB connection socket can be easily connected to a suitable amplifier, a mixer or a computer. It integrates a high-pass filter that allows, according to the manufacturer; eliminate noise such as car noise, wind, thunder, etc.
The Seiren Razer Pro microphone can be accompanied by a "shock mount" and a "pop filter" to complete the recordings.
The device is capable of recording in 4 separate modes: cardioid, stereo, omnidirectional, and bidirectional. It incorporates a headphone amplifier with extremely low latency. It allows a sampling rate 192 kHz/24 bit.
The new microphone Seiren Razer Pro will be available for €300. Count on prizes of €50, unity, for accessories or for €350 in pack including the microphone, shock mount and pop filter.