One challenge for manufacturers of mobile devices is to increase battery life. The excessive and constant use the battery runs out at times and causes many times you cut half our favorite song or that we can not send email when we most need it. Although we have experienced in this matter, so far not found the best solution. In this idea appears this pair of headphones that can take advantage of solar energy for charging devices when you are on the move.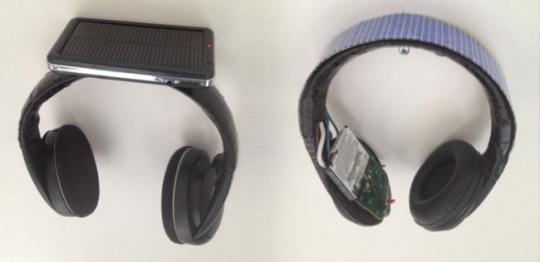 The "gadget" has been created in the UK. Andrew Anderson, a designer based in Glasgow, has launched OnBeat headphones. Headphones band is equipped with a flexible solar cell with a capacity of 0.55 watts. The load capacity of 5.5 V. "The headphones have a built-in flexible solar cell that capture solar energy while you are away from home," says Anderson.
The energy is stored in two lithium batteries that are light within two headphones to get a balanced weight and perfect fit on the head. "For rainy days we have also developed a version of these headphones so you can charge via USB directly from your computer or electrical network" he says.
Anderson expects to raise 200,000 pounds (230,000 euros) to start production of these headphones. "We are still working on the design and prototype. We need to improve the headphones". The idea came a year ago from a conversation with his father.