Sony has surprised the tech world with the presentation of different smartphones within the new Xperia range. Beyond these revelations, very important for positioning of Sony Mobile at the global level, the Japanese firm wanted to provide a very interesting component or accessory for users concerned about the autonomy of its terminals.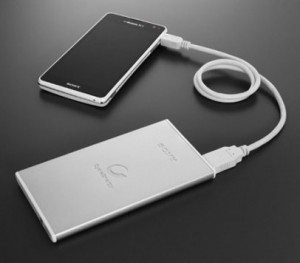 We refer to a new external battery that is presented as an important solution for users who are always on the move and need to charge handset in more than once in a day. In this way, Sony has already indicated that the company's firm intention to present a new line of small batteries, flat and external to enjoy greater autonomy wherever we are. But, what are the technical features of the new Sony Mobile batteries?
The Tokyo-based company presented different models. One of the most interesting, undoubtedly, has a capacity of 7,000 milliamperes and allows the load (such as all) through a USB port. It is ultrathin, since it complies with measures of 130.6 x 70.4 x 12.9 mm and weighs around 198 grams. Although quite heavier than a mobile phone.
In any case, we should note that the battery in question is capable of performing three complete charges, an amazing ability that will allow us to enjoy an experience rather than beneficial. It will be sufficient to carry always prepared this second battery to use its energy at any time in a hurry, using two USB ports to 2.1 amps. But this is not the only proposal that has Sony for its customers.
In principle, as announced by Sony spokesman Jin Tomihari also will release a series of external batteries in different capacities. There will be other simpler options of 3,500 and 2,000 milliamps, in different colors and formats. In fact, it is expected that the smaller format have a cylindrical and can travel, along with their owners, as a marker in any pocket.
For now, the batteries have been made for the Japanese market. There will be sold starting this October for about $30. According to the product information for these pieces, the battery of 3,500 milliamps, for example, can be used for more than 500 loads. The complete charging process can take around 130 minutes, a slightly longer time if we compare it with the agility of the load through a wall outlet.
In any case, it is possible that in the coming weeks, just before the end of the year, the new external and portable batteries may appear on the official Sony shop to combine with the brand new Sony Mobile terminals.