Swing Copters is surely an annoying game but if you had been missing the Flappy Bird, then get happy because alternative is available. Swing Copter is the creation of the developer of Flappy Bird with a similar simple yet complicated gameplay.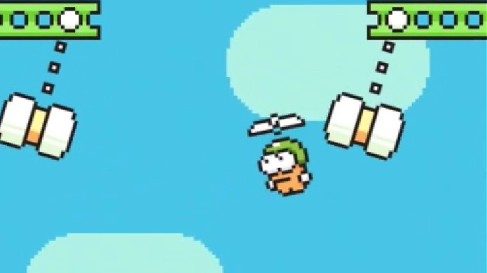 Many people are already into playing the game and they are struggling to get through the beams and hammer successfully. There is no doubt in the fact that within 10 minutes of playing the game, you will get frustrated with how it makes you feel. But there are some tips that can help you get through each level. Swing Copters is a completely free game available on both Android and iOS.
Take a look at some of the tips to successfully get through the game:
You will have to navigate through a sky with the help of the propeller helmet of your character. You have to make your character sway through a series of beams. There is more, you have to look out for the hammers swinging in the way which are attached to the beams. This is going to be a lot challenging. If you have played Flappy bird then you can understand what kind of challenge it will be.
You just have to be consistent with some simple controls to make your way through. You have to tap your screen for propelling the character. He will fly through the air wildly but make sure you take control of movements. With every obstacle you clear, you will gain more points. The game is played in the vertical setting with added danger that is quite twisted.
Some suggest that playing the game with two fingers or thumbs can make it easier to get through. That's because tapping is key. Use one finger to go left and the other one to go right. You will not only tap faster with two fingers but you will also have a better control on the paths.
Hammers surely cannot be avoided so just forget them and focus on using your fingers to tap.
You need to know that Swing Copters is more difficult than Flappy Bird. So that is a certainty that it will consume more of your life. If you want to master the game, you will have to find the right rhythm and reflexes. Without this, you will never be able to pass through the obstacles. You are going to give your character some headaches with the smashing. But make sure you down smash up your smartphone while getting annoyed.
The developer says that Swing Copters has a simple gameplay but by simple, it does not mean that the game is going to be easy. The key is to find the rhythm within the game and you will slowly understand what the game is about. Reaching to the next level is not going to be that easy. Like it's said practice makes a man perfect, playing the game again and again will make you learn the secrets to get through.